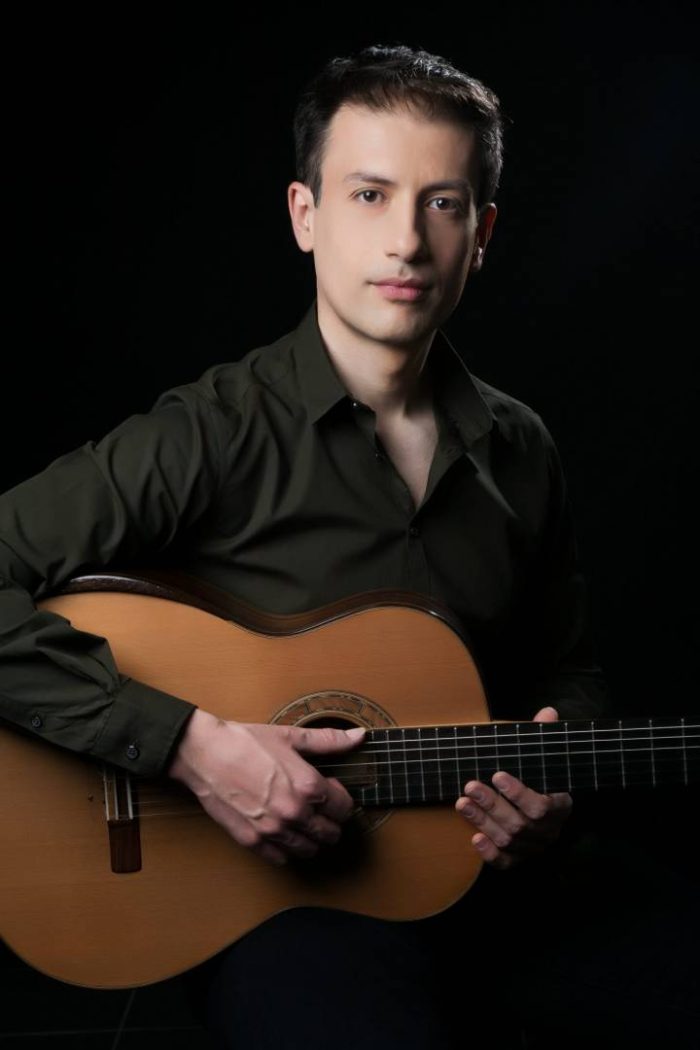 Bristol BS15 1TB, UK
Guitar Lessons | Ukulele Lessons | Theory Lessons, Online Lessons
---
Qualifications:

Phd in Music

Pricing:

30/h, 40/h

Styles:

All styles

Suitability:

All ages
---
Bio
Andreas Moutsioulis is a Greek-born guitarist, composer and music producer with extensive experience across a variety of music genres. His western music studies together with the music of his Eastern roots have brought him close to different musical styles since an early age. This background of classical, pop, folk and world music has led him to the idea of blending and combining all these styles.
Having studied classical guitar at the Municipal Conservatoire of Thessaloniki, the Ionian University of Greece and the Mozarteum in Salzburg, Andreas began performing professionally at the age of 16. His appearances include concerts as a classical guitarist as well as performances as a session guitarist with bands and orchestras.
Career Highlights
Invited to join an orchestra as a soloist at the age of 16.
Prize-winner in multiple international competitions.
Holder of four titles in guitar performance from major European universities.
Performance as a soloist with the "Athens Camerata" for HRH Princess Irene of Spain.
Appearances in prestigious venues such as the Athens Concert Hall "Megaron" and the St. Martin-in-the-Fields, London.
Interviewed repeatedly by the Hellenic National Radio and the BBC.
Since 2001, Andreas has been touring extensively in Europe, USA and the Middle East and has been performing as a classical guitarist (solo and in ensembles) as well as being a leading guitarist in pop, folk and contemporary bands.
His love for the guitar and his wish to present new musical experiences to his audiences caused him to look for ways to broaden its repertoire and help the instrument to develop. Since 2008 he has made his own transcriptions for the guitar of works by composers of the wider musical repertoire. His arrangements include works of different styles and genres for solo guitar as well as for ensembles.
Andreas is an independent recording artist, composer and music producer. He has released five CD albums of music for guitar. His last two albums include his own compositions.
Together with performing, he devotes time to teaching. Living in Bristol, UK at present, he teaches a number of promising students. Being a fan of technology, he also teaches students all around the world through Skype.
---
Teaching Info
Teaching approach
Create a friendly and relaxed atmosphere
Direct approach to the personality of the student
Help the student to develop skills and overcome technical issues
Work on different musical styles
Offer many useful tips concerning technique and being on stage
Simon "…Andreas is a highly gifted musician and teacher. He is professional in his approach but also friendly, relaxed and inspiring. I contacted Andreas to ask him to teach a brain injured individual. Andreas took this in his stride and quickly worked out how to create the ideal learning environment. Andreas can adapt to a wide range of styles and is skilled at pinpointing the key issues to enable fast progress. He has a hands-on approach, helpfully demonstrating technique on his own guitar or sometimes improvising along side you as you play, which is not only sounds amazing but helps you get used to playing with others…Very highly recommended!" Paul B. "…Andreas is an excellent teacher, very competent in a range of guitar styles and patient with his students…" Yannis "…Andreas combines expert knowledge of theory and technique with a key ingredient for any teacher.. patience! He is able to cater for all grades (or in my case no grade at all) and tailors his approach to the student's abilities. He also has a broad knowledge of acoustical musical styles and has a wealth of knowledge on a Greek /near eastern styles and modes which is an added bonus for those looking to expand their repertoire. A performing artist himself, you can see him live yourself to see what you are getting! Recommended…" Katy "…Andreas is a great teacher, methodical & patient. He can be flexible with times to suit your needs and sets the right speed for your ability.I would definitely recommend him…" Thanos "…Andreas is an excellent guitar teacher and soloist. He helped me reconnect with my interest in guitar playing after many years of not having played at all. He is inspiring and committed to his career and to teaching. He is flexible and relaxed and the lessons are enjoyable. I always look forward to the next one. Andreas has helped me to find pleasure and a sense of achievement in guitar playing…" Neil "…Andreas is a very good teacher in a wide variety of guitar styles. He is very knowledgeable and patient and I have learned a lot from him…" John B. "…Andreas is teaching both my young daughter, who started as a complete beginner and me who picked up my guitar again after over 10 years of not playing. I'm so pleased that we chose to go ahead with guitar lessons and particularly pleased that we are using Andreas. Andreas has been very patient, encouraging and methodical in his approach to tutoring us both. He's a brilliant guitarist himself and so his technical knowledge is world class but alongside, this he's been able to pitch the lessons to both of our abilities and interests, which has made learning with him really engaging. I've seen a big difference in my confidence and technical ability which has made playing guitar again really enjoyable and rewarding; whilst my nine-year-old daughter is continuing to learn and improve and is also able to enjoy her learning too. We can't recommend him highly enough if you are looking for a guitar teacher…" Nick "…I couldn't believe that what Andreas told me in our first meeting, about advancing my technique and confidence on stage, was true. It took me only two years attending courses with him and my whole world has changed. I was able to play on the guitar every piece that I was dreamed of (even the most outstanding ones, like the "Concierto de Aranjuez") and feel full of confidence when being on stage. I've obtained my soloist diploma with honors!!" Alexandra "…Even with simple stuff, like learning how to play chords and songs, Andreas is an absolute great teacher. Theory and practice become one and you learn in no time through his gentle and friendly approach. After six months I was even able to learn how to play songs by myself…" John W. "…Unlike other teachers, Andreas teaches you in a way that you won't need him to assist you after a while. His outstanding technique combined with his remarkable experience on stage gives you the opportunity to learn even only by discussing with him. Thanks for everything…" Helen "…It was a life dream of mine to reach a high level in guitar performance and to obtain the "soloist diploma". Through all these years I have experienced many difficult moments with teachers who actually passed their insecurities to me. The result was for me to experience a tremendous stage freight. I remember the first time I met Andreas in his house, where he asked me why I have such a fear inside of me. I remember that he told me that music is about relaxation and expression and not about fear or competition. After all these years under his tuition, I can now understand his words and enjoy playing on stage. Thank you for changing my life!!" Dimitris "…I have been Andreas' student for almost a year. He is a very good and talented musician and a very good teacher. His approach in teaching makes guitar learning very easy even for beginners, like myself. By taking into account the musical background/ influences of the student, Andreas makes the teaching/ learning process more interesting and fun. Moreover, when teaching he is precise and explains every step analytically till the student feels confident to repeat it on his/ her own. In conclusion, without any hesitation, I would recommend Andreas to everyone that wants to learn how to play the guitar…" James "…Lessons with Andreas are highly informative. It is nice to have a teacher that not only has a genuine passion for music but a passion for teaching as well. In just a short time I have been given information that would have taken me much longer to learn on my own and repaired techniques that have been hindering my ability since I first picked up a guitar…" Robert "…Knowledgeable and encouraging teacher – and a great guitarist himself…" Norman "…Very pleased to recommend Andreas he is a very good teacher and fine musician…" Hilda "…Very patient and generous with his knowledge, a good teacher…" Ian "…My class with Andreas is very informative and enjoyable and I am always looking forward to our next session…" Edward "…I would simply like to say that Andreas is by far the best guitar teacher I have ever had. I have been playing for almost 25 years – I played fairly seriously to the age of about 18 and then really picked it up again a year ago age 32. The progress i have made has been fantastic. My playing is infinitely better and technically there is no comparison to my playing of only a year ago. Andreas is technically an absolutely amazing guitarist, but he also plays and teaches with incredible musicality and passion. I have tried many teachers around the country, and also in Bristol itself, and I have to say that Andreas is an infinitely better guitarist and teacher than any of them. My future aim is to get my playing to a professional standard. I have a very long way to go to achieve this but feel confident and secure that, with Andreas's help and a lot of hard work from me; I will get there. Anyone considering guitar lessons MUST choose Andreas. He is simply the best…" Eddy "…Andreas has a wealth of guitar tuition built over 17 years of teaching students of all abilities. He teaches techniques which are adaptable across all genres of guitar playing. Andreas is very patient, calm, flexible and focused. He will work at your pace. Most of all he has a relaxed and fun style…" John "…Andreas was my last attempt at learning to play the guitar I was almost at the point of giving up. He has given me the motivation, encouragement and knowledge to continue with my guitar learning…"