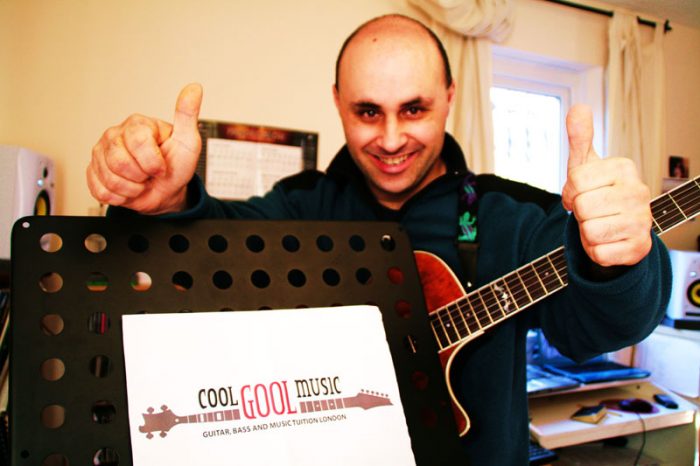 3 Tillett Square, London, UK
Guitar Lessons | Electric Bass Lessons, Ukulele Lessons | Aural Lessons, Ensemble Coaching, Song Writing Workshops, Theory Lessons, Composition Lessons, Jazz Improvisation Lessons
---
Qualifications:

London College of Music, University of West London (2004)- Electric Guitar Teacher's Diploma in Performance, Theory, Musicianship & History; Berklee College of Music (Summer Course 1998) - Honours with 5 A & 5 B credits

Pricing:

£15 (30mins) £25 (50mins) individual; from £10 group; £15 (30mins) or £20 (50mins) skype

Styles:

all styles - more at http://www.rgt.org/tutors/tutorinfopopup3.php?tab=teaching-spec&ID=MC2784

Suitability:

5 onwards (ukulele) 7 onwards (guitar) up to all ages
---
Bio
Hi,
I am Malcolm, and I communicate love via music.
My desire is to see you, my student, continually improve in how to translate your feelings & music ideas onto the guitar/bass/ukulele, regardless of your preferred style. I teach guitar, bass guitar & ukulele, and music harmony, and theory for any instrument (not only guitar/bass/uke).
Pro-active in promoting contemporary learning methods, with own students always obtaining effective results, my main goal is to unrevel the music within YOU according to YOUR aspirations as no 2 persons are the same!
I like to think of myself as the student's friend, using my 18 years teaching experience to facilitate how students learn how to learn, which in turn gives the students more command & motivation in what they are doing. This general student feelgood is reflected at www.malcolmcallus.com/testimonials.
Focused on improving and promoting guitar education for many years in my home country Malta before moving to London in 2007, I am an Honours certified Berklee College of Music ex-alumni, who worked for Euro Academy of Music and Arts (Malta) and Euro Institute of Music and Arts (Malta), and promoted the Registry of Guitar Tutors exams and educational books.
---
Teaching Info
Lessons are given internationally online, from my London studio in Surrey Quays/Canada Water (a step's throw away for anyone in SE16, SE1, SE14, SE15, SE8 & E14), at yours (within zone 3 of TFL network), and finally as group lessons in SE16 Rotherhithe, and other centres London-wide (if enough applicants in the same area).
Individual lessons can be taught in English, Italian, Maltese, German & Spanish.
Enabling clients to find the music within them in a timely manner,  students are presented with a range of musical examples and techniques, in a fun yet productive habitat. With on-site instruments one can borrow, any beginner will get going in ~ 6 months, and any already existing performer will get to the next level in no time.
Including a range of modules to choose from, the group lessons supplied by Cool Gool Music are suitable for all to enjoy. Lessons are insightly prepared to get its participants actively involved, improving collectively within a selected timeframe of usually 12 weeks, with a group concert given at the end. Info at http://www.malcolmcallus.com/group-lessons
On the other hand, individual lessons are tailored to the student's spec needs. This is looked at a team of two, were the tutor is the student's best friend helping to achieve one's goals realistically. Info at http://www.malcolmcallus.com/guitar-bass-uke-lessons
Good luck to all on your musical journey!