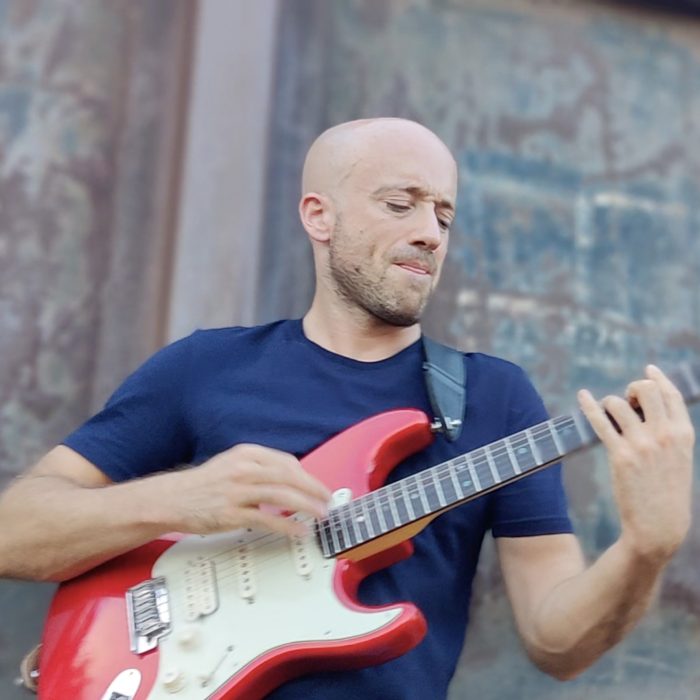 Stanhope Street, London NW1 3EX, UK
Guitar Lessons | Artist development, Aural Lessons, Ensemble Coaching, Song Writing Workshops, Theory Lessons, Composition Lessons, Jazz Improvisation Lessons, Mixing and Mastering Lessons, Online Lessons
---
Qualifications:

Degree in Music Teaching, Grade 8 Electric Guitar, Grade 8 Classical Guitar

Pricing:

£25ph

Styles:

Rock, Funk, Reggae, Soul, Jazz, Latin...

Suitability:

All ages
---
Bio
I am a professional guitarist and qualified music teacher with extensive experience as a soloist, accompanist, and band member across various genres including Rock, Soul, Funk, Folk, Latin, Reggae, Gypsy Jazz, Classical, and more. I play Lead Guitar for the band El Misti and we're about to release our 3rd album in 2023.
I have a Degree in Music Education from the international contemporary music awarding body, Rockschool, as well as Grade 8 Electric Guitar (Rockschool) and Grade 8 Classical Guitar (ABRSM), and an Audio Engineering Diploma (SAE Institute International).
I have travelled the world extensively researching world music genres, especially in Latin America. During a 2.5yr journey through Latin America, I attended the School of Mariachi in Guadalajara, Mexico and performed with Cuban street band, Los Jubilados del Caribe, in Santiago de Cuba.
---
Teaching Info
▶︎ Interactive Notation App
Permanent access to custom courses for a wide range of songs and techniques on a state-of-the-art interactive guitar notation app, allowing you to follow tab interactively, slow it down and loop.
▶︎ Studio Multitracks
I have the original individual instrument multitracks for dozens of hit songs with full transcriptions so that we can learn directly from some of the best guitar and bass performances ever put to tape, as if you were in the control room listening to them. Including artists such as: David Bowie, The Doors, The Eagles, Nirvana, The Rolling Stones, Red Hot Chili Peppers, Stevie Wonder, The Clash, The Beatles, Bob Marley, Marvin Gaye, Lynyrd Skynyrd, The Police,  REM, Queen, Creedence, Dire Straits, The White Stripes, Blue Oyster Cult, Deep Purple, Muse…
▶︎ Backing Tracks  & Neck Diagrams
High-quality custom backing tracks and neck diagrams to help you visualise and internalise.
▶︎ Direct High-Quality Audio into Zoom
I plug directly into Zoom via a Helix Floor Multi-FX pedal and a Shure microphone to ensure that you get nothing but the best quality audio experience.
Kieran's teaching style is a strong mix of his friendly character and his astronomical musical education, this creates an atmosphere of comfort whist being pushed to become the best on your chosen instrument. Kieran's incredible teaching has progressed me from being a novice bassist playing for fun to a musician aiming for a career in the performance industry, backed up by the technical ability and theoretical knowledge he's passed on to me.
Jack
Kieran has been helping me for two years. He understands my music interest and can effortlessly structure appropriate lessons and styles. Great fun while always being challenged towards improvement. His own skills seem endless so would always recommend him to anyone
Ian
I'd highly recommend Kieran to anyone who is looking to grow as a guitarist. He has an incredible knowledge of music, especially guitar theory which I had limited knowledge on. My lessons with Kieran have opened up a completely new understanding of the theory behind guitar and how to apply it logically when approaching new material, whilst also learning how to provide this to improvisation. Most of all though he's a top fella. Each lesson is like having a mate teach due to his humour, patience and enthusiasm, but who also has a structured approach.
Leo Gibson
Kieran is a fabulous teacher! I've been learning with him for over two years, and in that time I've grown in confidence, knowledge and skill level in the guitar. He makes lessons really fun and accessible, and takes your personal goals into account when planning. He offers (and makes!) excellent resources to assist learning and his teaching is exceptional. Even though I was originally daunted at the task of learning music theory, Kieran broke it down and made it seem simple, even quite advanced concepts. He's really encouraging, will be really patient when you need more time to understand or get the hang of something, and will also challenge you to continually become a better guitarist. Cannot recommend Kieran enough!
Cath
I was lucky to find Kieran. He is punctual and patient. He has helped me with maintence of my guitars, and not just playing. He is always there if I gave an issue with my instruments, and always provides good advice. He's never let me down. Big thank you
Grant Mayos
Kieran is a great tutor. As someone who had never really held a guitar before, he went through everything methodically and with lot of patience. His approach makes sure you get to grips with the basics and gives you confidence to be creative I'd highly recommend Kieran
Mark Wallace
Kieran Gilchrist is a fantastic guitar teacher, Kieran opened up a world of guitar knowledge an theory that I had a very basic understanding of when I first started lessons 2 years ago. Since then I believe I can say I have improved drastically in multiple elements of not just guitar but music as a whole from discovering new genres too understanding complex theory concepts. Couldn't recommend anymore highly.
Max Balmer
A great tutor with a great method of teaching. My son leant the guitar with Kieran over many years and his patient approach and enthusiasm for teaching really shone through. My son thoroughly enjoyed his weekly lesson and I would highly recommend this music tutor
Chris
Absolutely superb teacher, couldn't ask for more. Very calm and patient. Especially like that he uses my taste in music to teach rather than generic tuition. Couldn't recommend more.
Dan Hobbs
Kieran's remarkable knowledge and talent as a musician in a staggeringly broad range of styles and genres is matched by his skill as a teacher. His lessons are meticulously structured to enable an exponential growth of both confidence and skills in relaxed and massively enjoyable sessions. He has incredible patience coupled with an ambition for his students to progress which makes for lessons that inspire and challenge. A brilliant teacher!
Ann Spears