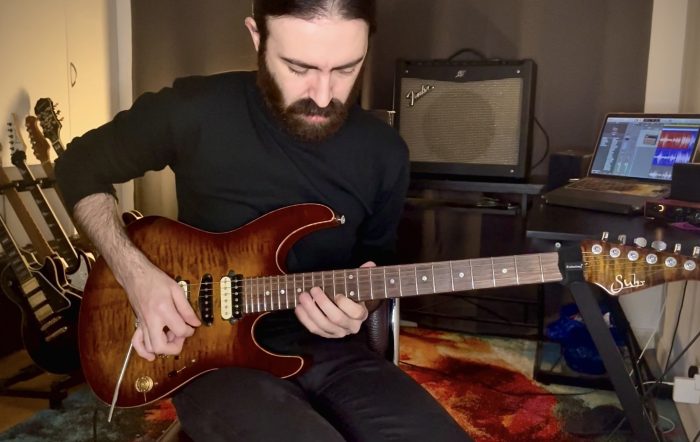 17B Finchley Lane, London, UK
will travel to you please enquire.
Guitar Lessons | Aural Lessons, Theory Lessons, Composition Lessons, Jazz Improvisation Lessons, Online Lessons
---
Qualifications:

bachelor of Arts Music Academy 2000

Pricing:

45

Styles:

All genres

Suitability:

from 5 years old
---
Bio
Nowadays I have been playing for more than 20 years trying to explore and learn as much as I could for every style of music that I studied, trying to make mine every phrase, every technique and every skill. I tried to incorporate as much as I could in my knowledge of music to have a vast music vocabulary to choose from.
I studied for 8 years electric guitar and I have a degree in Contemporary Music which includes courses in technical improvement, Composition, style analysis, performing, post-productions, etc… I played for years acoustic guitar as well improving my skills and technique for fingerstyle and the thumb pick. I was a teacher in public middle and high schools in Italy and I had the chance to teach the guitar in classes of 28 students but by giving private lessons to a single student I can be more focused on the needs of everyone. I played with cover Bands, original projects, polyphonic choir, guitar and piano arrangements and I have been the composer of the arrangements of a 16 elements orchestra that plays rock song
---
Teaching Info
I approach each student differently, it really depends on what they need or what they want to learn. I always incorporate technique and theory at the same time in every lesson trying to teach as much knowledge as I can.
I studied a lot of different styles and I am open to every kind of music and I enjoy teaching any of them. For every genre that I teach, I can focus the lessons on
Technique
Theory
Analysis of the song or the genre
Rhythm improvement
Melodic improvement
Improvisation
Composition
etc…..
I can travel to student homes but I am available online as well. I have a degree in Contemporary Music and I studied guitar for 8 years, I like to keep myself updated on everything about music. I am CRB/DBS checked for your/your children's safety and I can send a copy of it upon request