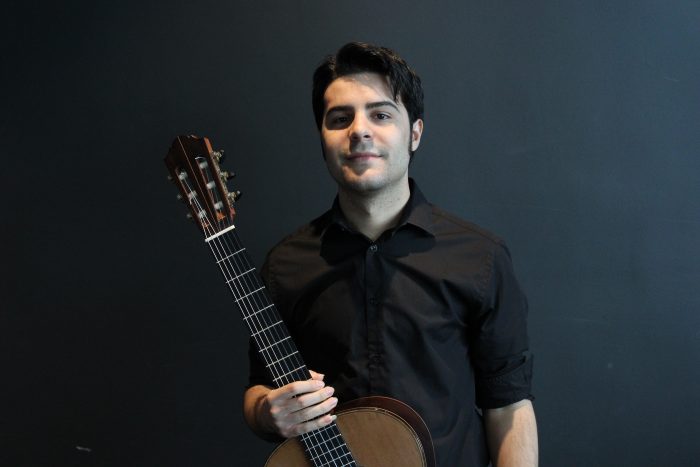 23 Romilly Crescent, Pontcanna, Cardiff, UK
Guitar Lessons | Theory Lessons, Composition Lessons, Online Lessons
---
Qualifications:

RWCMD Bachelor's Degree in Music Performance (Classical Guitar) - RWCMD Master's Degree in Performance (Classical Guitar) & Compositionirst Class Honours

Pricing:

£30/hours Grade 1-8 - £35/hour above Grade 8

Styles:

Classical, Acoustic, Electric

Suitability:

Any age, any level
---
Bio
Samuele was born in Grosseto, Italy, in 1998. He started studying classical guitar at the age of 6 with guitarist Mirko Pieri and, later, guitarist and luthier Paolo Bernardini. In high school, he studied first with Antonino Ielo and later with Alessandro Benedettelli, and obtained his Diploma di Esame di Stato with 15/15 in his performance exam. During these years, Samuele has won several prizes at national and international competitions in Grosseto, San Vincenzo (Livorno), and Tarquinia (Viterbo) for both solo and chamber performances.
From 2017 to 2023, Samuele has studied at Royal Welsh College of Music and Drama, where he was recipient of scholarships, with Helen Sanderson and John Mills, also receiving termly lessons form Zoran Dukic. He graduated in performance in 2021 with an Honours First Class, receiving the "May Edwards Prize" awarded to an overseas student by the Director of Music. In 2023, Samuele completed his Master's degree in in performance and composition with a Distinction. His composition tutors were Michael McCartney, Lynne Plowman, and Joseph Davies.
Samuele won the RWCMD guitar department "John Mills Prize" three times in a row between 2018 and 2020, as well as the "Orpheus Prize for Guitar and Voice" in 2020 and 2021. In 2021, Samuele classified 2nd at "Leicester MusicFest" classical guitar competition. On 5th May 2023, Samuele performed as a soloist for the premiere of his "Symphonic Concerto for Classical Guitar and Orchestra", composed between June 2022 and April 2023, in the Dora Stoutzker Hall, for the "2023 RWCMD Atmospheres Festivals".
Samuele has played in masterclasses for worldwide-known guitarists such as Petrit Ceku, Jack Hancher, Xuefei Yang, Pavel Steidl, Gabriel Bianco, Margarita Escarpa, Christ Stell, Matteo Mela, and Stefano Viola.
Samuele is currently based in Cardiff, where he works as a freelance performer and composer. Other than classical guitar, Samuele also plays piano, harmonica, acoustic and electric guitar, ukulele and mandolin.
---
Teaching Info
I am available for one to one lessons of classical, acoustic and electric guitar. My lessons will include music theory when necessary. I also teach composition – classical music and standard notation.
Lessons will be online and can be 30 or 45 minutes, or 1 hour long. The schedule of the lessons and their length can change depending on the student's needs and other commitments.