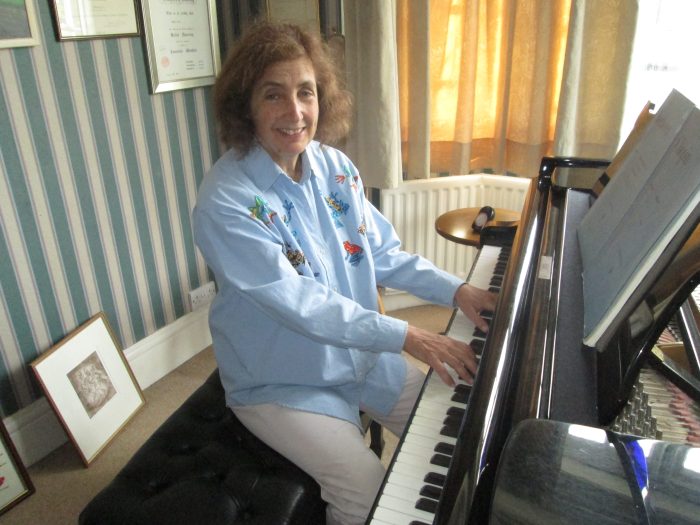 24 West End Avenue, Pinner, UK
Piano Lessons | Flute Lessons, Keyboard Lessons, Recorder Lessons, Saxophone Lessons, Singing Lessons | Artist development, Aural Lessons, Ensemble Coaching, Theory Lessons, Composition Lessons, Drama Lessons
---
Qualifications:

GRSM (Royal Academy of Music), ARCM, FISM, MTC, ANATD Hons

Suitability:

5 years to adult
---
Bio
Barbara Young GRSM (Royal Academy of Music), ARCM (Royal College), MTC (London University), ANATD Hons (National Association of Teachers of Dance) is an internationally renowned musician and qualified DBS-approved teacher.  She specialises in the training of children and adults in music, English and dance.  Barbara has been teaching and performing since 1980, and has featured in The Times and on the BBC and ITV.  After graduating from the Royal Academy of Music, she performed piano recitals at national venues such as the Purcell Room on London's South Bank.  Barbara was Head of Woodwind for schools in the London Borough of Hounslow, and in 1987 pioneered the Music and Song early childhood music project.  She has lectured widely on the beneficial effect of music, speech and dance on babies and young children.  Barbara established the Young Academy in 1999 and continues to inspire students to develop a love of music and the arts.
---
Teaching Info
The Young Academy offers tuition in piano, keyboard, singing, saxophone, flute, music theory, musical theatre, dance and English.
While lessons are based on the ABRSM and Trinity classical syllabuses, pupils explore additional repertoire throughout the year. This can include a variety of genres, from jazz and blues to rock and modern pop music.
Lessons take place in the Young Academy Studio in Pinner, a beautiful venue which is home to a magnificent grand piano.
The Young Academy also offers the opportunity to perform in concerts. This helps develop confidence which is valuable in later life.
Hello, My daughter started learning piano with Barbara, she is very supportive and patient with young children my daughter adores her teaching and always looks forward to her classess. She has also started singing lessons with Barbara and doing ver well. I feel Barbara has good understanding of her students abilities and encourages them to excel in their specific talent making the whole experience enjoyable. Barbara is very versatile musician and often tries to encourage students to explore . We are extremely fortunate to have found her and appreciate her efforts towards training our daughter.
Rajni Tipnis
Barbara has been teaching my children for about 10 years. She is an excellent teacher who is kind and supportive towards her students. Under her guidance, my children have gained grades in piano, flute and singing. They enjoy her lessons and I cannot imagine them being taught by anyone else. I recommend her unreservedly.
MH
I would highly recommend The Young Academy. My son really enjoys his piano and singing lessons with Barbara whom is very professional, knowledgeable and kind. She has the ability to challenge my son in a fun and friendly manner to bring the best out of him. She is truly inspiring and very passionate about music which a prelivege to be apart of for over 5 years.
Geeta Vekaria
Wonderful music teaching academy in Pinner led by Mrs Barbara Young. Her calm and supportive teaching style helps her to build rapport with her students. She is able to work with each child to understand their musical learning needs and help guide them on their instrument journey. Her passion for music shines through.
Kate Stockman